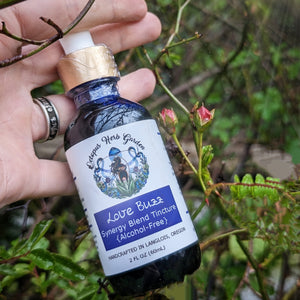 Octopus Herb Garden
Love Buzz Synergy Blend Tincture (Alcohol-Free)
Regular price
$25.00
$0.00
Unit price
per
What's the buzz about Love Buzz?  
A heart-centered, invigorating, & mood-lifting synergistic blend that supports cardiovascular & nervous system health.
Ashwagandha - a calming & grounding adaptogen that is considered a general longevity tonic and is often administered as a libido enhancer. 

Damiana - a warming ally most commonly used as a supportive tonic for the libido. Supports healthy levels of serotonin and dopamine within the brain and acts to support and maintain the optimal flow of blood and oxygen to the genital areas. She brings the heat and we love her!

Motherwort - sometimes known as Lion's Heart, this cardiovascular tonic & nervine carries the energy of a maternal hug and helps to support emotional balance while aiding and maintaining physical heart health - particularly during times of occasional stress.
Hawthorn - another cardiovascular tonic we adore. We use both the berry and leaf in this formula. Gentle yet strengthening, this ally supports rejuvenation & vitality, healthy circulation, benefits the entire cardiovascular system, and also supports the emotional body of the heart.
Rose - an aphrodisiac, nervine, and blood tonic. Rose stimulates the circulation of blood flow to the pelvis and is used to break up stagnation and brings warmth and movement to the area. Energetically, rose is a wonderful ally for moving heavy grief or stuck emotions in a gentle way. 
SUGGESTED USAGE: Take approximately 1 dropperful (1mL) up to 3 times daily. Can be taken directly or added to beverage of choice.
**This statement has not been evaluated by the FDA. This product is not intended to diagnose, treat, cure, or prevent any disease.**
Comes in a 2oz glass dropper bottle filled with: Organic Glycerin (Derived from Flax), Organic Damiana (Turnera diffusa), Organic Motherwort (Leonurus cardiaca), Organic Hawthorn Berry & Leaf (Crataegus monogyna), Organic Ashwagandha Root (Withania somnifera), Organic Rose (Rosa centifolia), Purified Oregon Spring Water
---