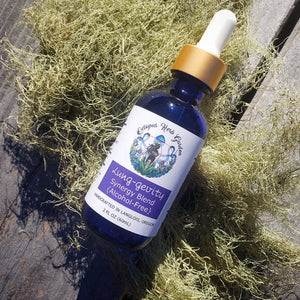 Octopus Herb Garden
Lung-gevity Synergy Blend Tincture (Alcohol-Free)
Regular price
$25.00
$0.00
Unit price
per
Mullein, Horehound, and Usnea.

These three powerhouses have been used for centuries for the upper respiratory system and more. In our Lung-gevity Synergy Blend they come together and work as a team to help get the yuck up and out of the lungs.

May be helpful for former smokers, those who live in areas with poor air quality (i.e. fire season on the west coast), or anyone struggling with a phlegmy cough.
SUGGESTED USAGE: Take approximately 1 dropperful (1mL) up to 3 times daily. Can be taken directly or added to beverage of choice. Best taken between meals.

**This statement has not been evaluated by the FDA. This product is not intended to diagnose, treat, cure, or prevent any disease.**
Comes in a 2oz glass dropper bottle filled with: Organic Glycerin (Derived from Flax), Organic Mullein Leaf & Flower (Verbascum thapsus), Organic Horehound (Marrubium vulgare), Ethically Wildcrafted Usnea Moss, Purified Oregon Spring Water
---