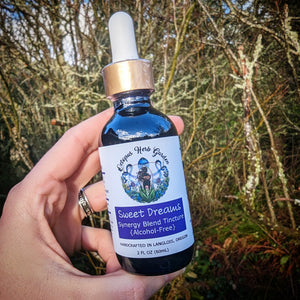 Octopus Herb Garden
Sweet Dreams Synergy Blend Tincture (Alcohol-Free)
Regular price
$25.00
$0.00
Unit price
per
This gentle and loving blend has quickly become a beloved addition to my bedtime routine.
Full of calming & restorative thoughtfully combined plant allies: chamomile, passionflower, lemon balm, skullcap, and milky oat tops.
She helps quiet the mind and takes the edge off from the day, allowing you to slip into dreamland and then wake feeling refreshed.
SUGGESTED USAGE: Take approximately 1-2 droppersful (1-2mL) 30 minutess before bed. Can be taken directly or added to beverage of choice. Take additional dropperful right before bed if needed.

**This statement has not been evaluated by the FDA. This product is not intended to diagnose, treat, cure, or prevent any disease.**
Comes in a 2oz glass dropper bottle filled with: Organic Glycerin (Derived from Flax), Organic Chamomile (Matricaria chamomilla), Organic Passionflower (Passiflora incarnata), Organic Lemon Balm (Melissa officinalis), Organic Skullcap (Skutellaria lateriflora), Organic Milky Oat Tops (Avena sativa), Purified Oregon Spring Water
---